The NWO Spinoza Awards
Former Award Winners
Spinoza Committee Report
Acceptance Speech
About Spinoza (ext.)
van Benthem on Spinoza
Johan van Benthem (ext.)
Logic...
...in Action
Logic in Action Themes
Logic in Communication
Dissemination of Logic
Computational Logic
Amsterdam
the Netherlands
Europe
The World
Logic in Communication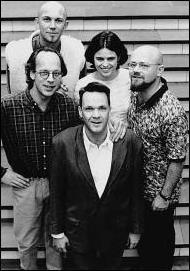 The Logic in Communication Group (1999); at the back: Maarten Marx; in the middle: Paul Dekker, Annette Bleeker, Alexandru Baltag; in the front: Yde Venema. Not on picture: Jelle Gerbrandy.

Logic in Communication is the name of a collaborative Amsterdam research effort in the area of logic and language. The disciplines of logic and formal semantics are firmly rooted in Amsterdam, and Amsterdam has grown out to be one of the most lively centers research in modal logic and dynamic semantics. The Logic in Communication project is aimed at combining and strengthening the Amsterdam expertise.

The Logic in Communication project is more specifically concerned with the formal notion of information: logical properties of information, information exchange and information structure. This interdisciplinary research enterprise figures as a centering point for studies in natural language semantics, the philosophy of action and cognition, artificial intelligence and computer science, and it uses the combined tools from proof, model, and game theory. Its main results can be consulted via the homepages of the project members, or via the booklet which has been produced as a state of the art statement at the end of the project.
Current and former researchers involved