<!HTML 3.0 Copyright Universiteit van Amsterdam>
EuroWordNet Sample and Viewer Copy Right Claim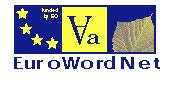 Copyright 1997 by the EuroWordNet Builders/Providers.
All rights reserved.
Last Update: jan-99
The Sample Data consists of:

examples of Dutch, Spanish, Italian, German, French, Czech and Estonian wordnets,
the Inter-Lingual-Index,
a conversion of WordNet1.5 to the EuroWordNet format
a top-ontology of 63 semantic distinctions which have been applied to a set of 1024 Concepts in the Inter-Lingual-Index.
All data are provided as plain text files and as databases. The text files are in the EuroWordNet import. The databases can be accessed with the EuroWordNet Viewer Periscope, which has to be installed first. From Periscope, it is possible to export data to ASCII format. The wordnet samples for Dutch, Spanish, Italian, German, French, Czech and Estonian are limited to 3 semantic fields:

- measure instruments
- musical instruments
- words related to communication
The samples contain between 600-1000 synsets. The synsets may be related to other synsets which may or may not be included in the set. The first two fields mainly contain hyponymy relations between synsets. The third field mainly includes other types of relations, howing how different types of concepts that play a role in communicative processes are lexicalized in languages and can be related.
Furthermore, we provide a new version of the Inter-Lingual-Index (ILI) that includes so-called Composite ILI-records. Composite ILI-records group WordNet1.5 senses of polysemous words that are closely related or can be related by regular polysemy patterns. For example, the specific university senses as an institute and as a building, will be related to a Composite record university covering both interpretations.
The Composite ILI-records make the mapping across languages more efficient, and can also provide a more coarse level of sense-differentiation for WordNet1.5. All synsets in the samples are updated for the new ILI, so that synsets linked to a specific sense also got an additional sense to the Composite record.
Before downloading the samples and the database please read the following copy-right claim.
---

This data is being provided to you, the LICENSEE, by the Universiteit van Amsterdam on behalf of the EuroWordNet Builders/Providers under the following license. By obtaining and using this data, you agree that you have read, understood, and will comply with these terms and conditions:
Permission to use this data and its documentation for any purpose and without fee or royalty is hereby granted, provided that you agree to comply with the following copyright notice and statements, including the disclaimer, and that the same appear on ALL copies of the data, and documentation, including modifications that you make for internal use.
THIS DATA IS PROVIDED "AS IS" AND the Universiteit van Amsterdam and the EuroWordNet Builders/Providers MAKE NO REPRESENTATIONS OR WARRANTIES, EXPRESS OR IMPLIED. BY WAY OF EXAMPLE, BUT NOT LIMITATION, the EuroWordNet Builders/Providers and the Universiteit van Amsterdam MAKE NO REPRESENTATIONS OR WARRANTIES OF MERCHANTABILITY OR FITNESS FOR ANY PARTICULAR PURPOSE OR THAT THE USE OF THE LICENSED DATA OR DOCUMENTATION WILL NOT INFRINGE ANY THIRD PARTY
PATENTS, COPYRIGHTS, TRADEMARKS OR OTHER RIGHTS.
The names of the EuroWordNet Builders/Providers or EuroWordNet may not be used in advertising or publicity pertaining to distribution of the data. Title to copyright in this software, database and any associated documentation shall at all times remain with the EuroWordNet Builders/Providers and the LICENSEE agrees to preserve the same.
EuroWordNet Builders/Providers consists of:

1. Faculteit Geesteswetenschappen, Universiteit van Amsterdam (AMS), The Netherlands
2. Université d' Avignon (AVI), France
3. Memodata (MEM), France
4. Universität Tübingen (TUE), Germany
5. Istituto di Linguistica Computazionale del CNR, Pisa (ILC), Italy
6. University of Sheffield (SHE), United Kingdom
7. Fundación Universidad Empresa (FUE), Spain
8. University of Masaryk (BRN), Czech
9. University of Tartu (TAR), Estonia
10. Lernout & Hauspie, Antwerp (LHS), Belgium
11. Van Dale Lexicografie (VDL), The Netherlands
12. Bibliograf (BIB), Spain
13. Princeton University, USA (PUU)
<



Up to "Main Menu"