<!HTML 3.0 Copyright Universiteit van Amsterdam>
EuroWordNet Results and Exploitation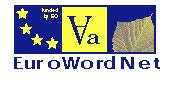 The most important results are:
the wordnets in each separate language (Dutch, Italian, Spanish, French, German, Czech and Estonian) linked to the English WordNet,
an addition to Wordnet1.5 for relations not covered in the Princeton Wordnet for English,
WordNet1.5 in EuroWordNet format.
an Inter-Lingual-Index (based on WordNet1.5) to connect the different wordnets and other ontologies.
the shared top-ontology,
Polaris: a wordnet editor to create and edit wordnets linked to EuroWordNet.
Periscope: the EuroWordNet viewer in which all this can be viewed and selections can be exported
a report on the demonstration of the results in information retrieval tasks.
Other results are:
document explaining the database architecture,
definitions and test-sentences for the semantic relations,
progress-reports on the building and comparison of the wordnets,
papers on EuroWordNet.
Available Results:
Last Update: December 31, 1999